On June 29, the China Intellectual Property New Year Forum, also known as the Annual Meeting for IP Managers in China, released the winner list for "2021 Outstanding IP Services Teams in China". With our permanent professionalism and excellence in the IP services industry through the more than two decades' time, Watson & Band IP Services Team is again an award winner in this event.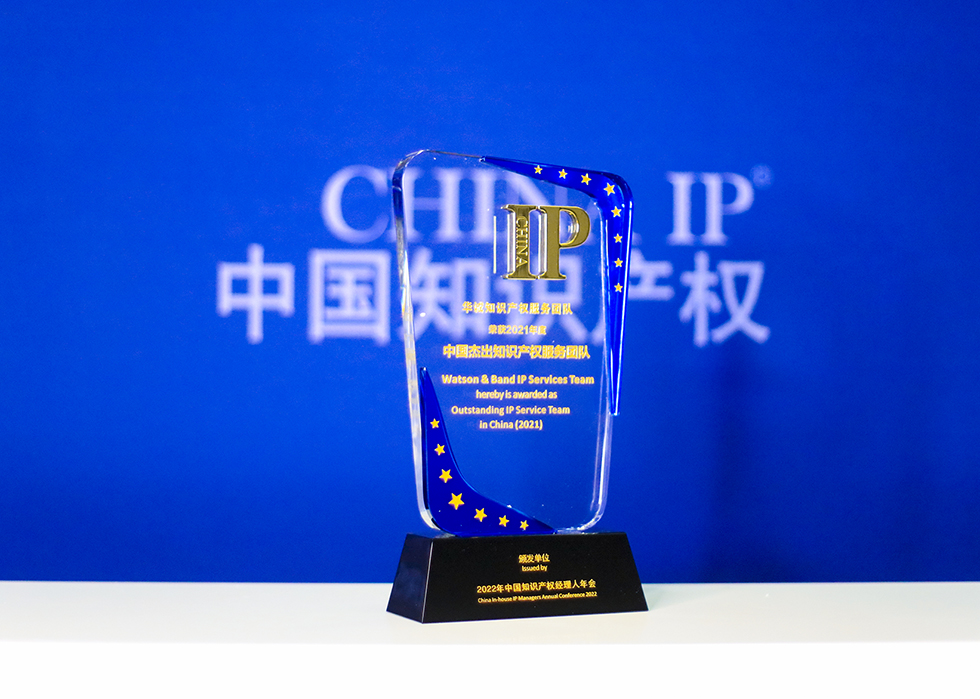 Watson & Band, as one of China's oldest intellectual property service providers with the qualifications as a foreign related patent agency, maintains a leading position in the intellectual property industry due to its extensive experience. Watson & Band's IP services cover the entire life cycle of IP rights, including IP rights mining, prosecution and acquisition of rights, enforcement, transfer and transformation of IP achievements, among others. We have accomplished excellence in traditional service areas like IP agency, litigation and dispute resolution, business strategy road mapping, corporate operation and management and compliance, as well as in emerging service areas such as "Internet +" and the like.
IP services offered by Watson & Band encompass the fields of chemistry, biotechnology, pharmaceuticals, computer software, telecommunications, data, automobile, machinery and manufacturing, metallic materials and semiconductors, etc. Over the past few decades, Watson & Band has successfully resolved many IP litigation cases, including many "firsts" in Chinese IP jurisprudences -- the first patent infringement case between two foreign companies, the first patent infringement case between a Japanese company (plaintiff) and a Chinese company (defendant), the first criminal case involving trade secrets infringement, and Shanghai's first cross-border trademark infringement case in which the disputed trademark was identified as a "well-known trademark".